John S. (Jack) Belrose
John S. (Jack) Belrose was born in Warner, Alberta on November 24th, 1926. He received his BASc and MASc degrees in Electrical Engineering from the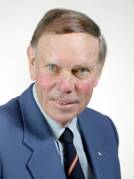 University of British Columbia, Vancouver, B.C. in 1950 and 1952. He joined the Radio Propagation Laboratory, of the Defence Research Board, Ottawa, ON in September 1951. In 1953 he was awarded an Athlone Fellowship, was accepted by St. John's College, Cambridge, England and by the Cambridge University as a PhD candidate, to study with the late Mr. J.A. Ratcliffe, then Head of the Radio Group, Cavendish Laboratories. He received his PhD degree from the University of Cambridge (PhD Cantab) in Radio Physics in 1958. From 1957 to 1998 he was with the Communications Research Centre Canada (formerly Defence Research Telecommunications Laboratory). When he retired he was then Director of the Radio Sciences Branch. Presently in honour of a fifty-year career in radioscience he has the status of an Emeritus Researcher at CRCC .
Dr. Belrose was Deputy Chairman and then Chairman of the AGARD (Advisory Group for Aerospace Research and Development) Electromagnetic Propagation Panel from 1979-1983). He was a Special Rapporteur for ITU-Radiocommunications Study Group 3 concerned with LF and VLF Propagation, and in this capacity authored two major reports concerned with propagation in these frequency bands. He is Technical Advisor to the American Radio Relay League, Newington, CT (since 1981) in the areas of radio communications technology, antennas and propagation; a Fellow Member of the Radio Club of America; a Life Member of the Antique Wireless Association and the Quarter Century Wireless Association (56 years a licensed radio amateur); and a Life Senior Member of the IEEE (Antennas and Propagation Society). He has been a licensed radio amateur since 1947 (present call sign VE2CV, exVE7QH, exVE3BLW).
At the 98th annual meeting of the Radio Club of America, 16th of November, 2007, Jack was awarded The Armstrong Medal, for his contributions to the radio art and science.
He is the author or co-author of over 150 papers, articles, and technical correspondence letters written relevant to the fields of radio communications, radio science, antennas and propagation; author of 2-chapters in a Prentise-Hall book on Physics of the Earth's Upper Atmosphere; author of a chapter in an IEE 1983 Publication The Handbook on Antenna Design; Lecturer, AGARD Lecture Series Director for four published lectures; author of eight conference papers published by the IEEE and IEE in the field of antennas and propagation; author of seven papers concerned with the History of Wireless and a chapter of a book with that title, published in 2006 by John Wylie & Sons.
Jack is married to Denise (ne Fenal of Paris), and they have three children (Katherine, John and Patrick), one granddaughter (Alexa), and one grandson (Jesse). Jack and Denise holiday in Europe; and in Canada and United States, traveling in a Holiday Rambler Neptune Motor Home. He enjoys camping, swimming, cross country skiing, and amateur radio.